11. May 2022
The peptide architect
Nadja Berger is conducting research on a novel vaccine platform in Adlershof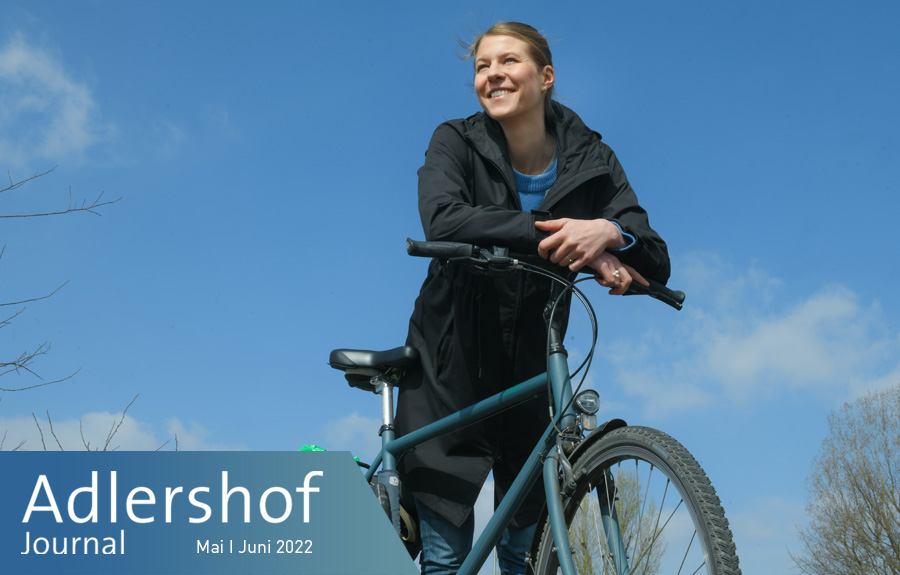 Currently working on vaccine research: the chemist Nadja Berger now feels at home in Adlershof © WISTA Management GmbH
A company in the start-up phase. A newly developed procedure, unique in the world. A young chemist. Nadja Berger had spent two years at the University of Pennsylvania in Philadelphia and wanted to head off to new shores. She hadn't been studying job openings for very long when her attention was caught by a company named Belyntic. The company's founders had just patented a more efficient method to purify synthetic peptides. Berger was familiar with peptides as well as the problems that come with conventional purification methods: "I was immediately excited."
Since April 2019, she has now had her desk at the Adlershof location of the Federal Institute for Materials Research and Testing (BAM), which is where Belyntic moved into two labs and two offices with its ten employees. Peptides are chains of amino acids that are common in all organisms and have gained a reputation in medicine as therapeutic panaceas. They work as building blocks for active ingredients against cancer, dementia, or diabetes. Since early 2021, Berger has been in charge of the technical development of a platform for peptide-based vaccines at Belyntic.
When describing her role, she says her aim is to identify the best-possible molecular "architecture" of the peptides. By using different building blocks and rearranging them, she creates the "candidates" for vaccines that are subsequently tested. The "peptide easy clean" technology, or PEC, developed by Belyntic, makes her work easier. It is used to remove deficiencies and impurities at the end of every synthetic production of amino acid chains. The method involves fishing out desired and useful peptides with a molecular "fishhook", as Berger describes it, and with high precision. Compared to the conventional method, the new procedure uses up less product and material, is more versatile a well as being simpler and faster.
It's not like the now 37-year-old has imagined spending her days with peptides since her early teenage years. At school, few were interested in chemistry. Berger envisioned herself as becoming a doctor. When visiting a pre-semester course at the Rhineland Education Centre, preparing prospective medical students for their studies by teaching them the scientific basics, she discovered she had a penchant for chemistry.
The topic of her thesis was the result of a research stay in Cork in Ireland and she wrote her PhD at the Ruhr University in Bochum.
She grew up in Schorndorf in Remstal, Württemberg. Berlin is the most recent stint of a CV that included many different jobs and places. She likes it here, especially the cultural offerings. From Richardkiez in Neukölln near Tempelhofer Feld, it takes her half an hour by bike to get to the lab. She will probably move into a new space at the end of the year, but it will definitely be in Adlershof.
Dr. Winfried Dolderer for Adlershof Journal
Related News
Related Institutions