28. October 2021
It's all about content
Conventions, the congress service of WISTA Management GmbH, gives events in Adlershof a new profile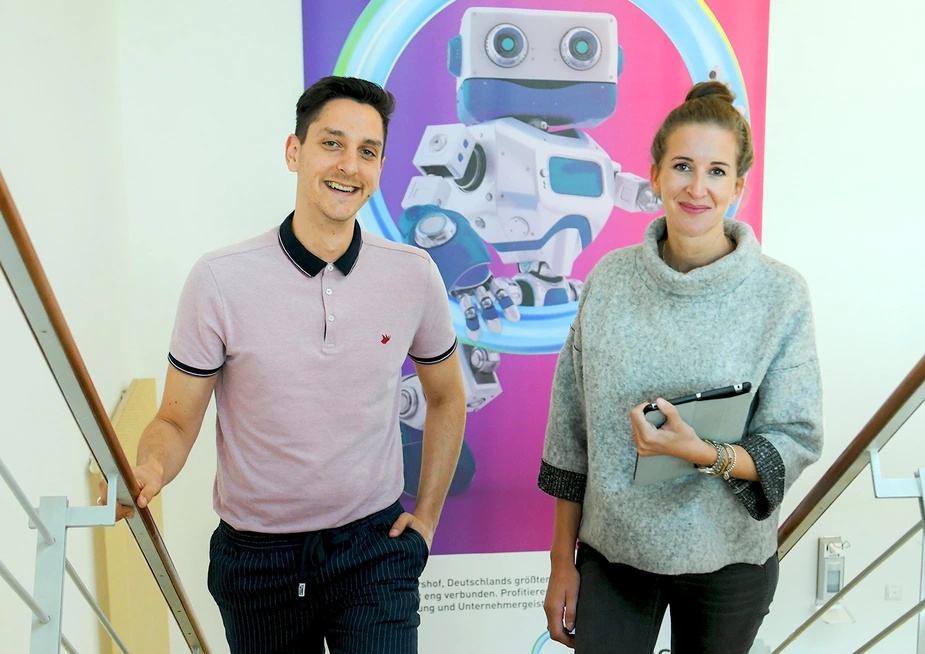 Benjamin Springer and Josephine Kutsche are working on creating a new profile for Adlershof's events © WISTA Management GmbH
The Science and Technology Park has been busy tightening its brand focus. Appearance, content, message. WISTA Management GmbH's conference service, too, has received an update. Under the new name, Conventions, it not only focuses on the site's spectacular history and architecture but more on what makes it special today: smart minds, visionary research, and highly specialised technology companies. "It's all about the content," Josephine Kutsche is convinced. She is the head of a the team that has also been making sustainability a priority.
Perfect events are a science. Great thoughts and creative ideas need space. Adlershof has much of this already. The ingredients are the following: the cradle of German aviation, the most important site for science, business, and media in Berlin-Brandenburg, eight non-university research facilities, six university institutes, including their students, and more than 1,200 companies—mix it all together and you get a singular setting for any event. No other place has a comparable density of entrepreneurs, researchers, business founders, and students. An inspiring environment. Finding suitable content to highlight is not a problem if you look in the right places, says Kutsche. To do so, Kutsche and her team have tightened their focus.
The main event venue of Conventions on Rudower Chaussee 17 features room for up to 600 people—a total of 1,100 m2—and a 750 m2 terrace. On top, they have 500 m2 of space at Forum Adlershof, a landmarked building on Rudower Chaussee 24. "Rooms with all the equipment," says Kutsche soberly. "This is the standard." Many offer such rooms. What others don't have is the content: the unique ideas that are being researched, developed, and operated in Adlershof. There is a world market leader on every corner. "We are focusing on technology and science-focused events that we organise for our customers as a full-service agency," explains Kutsche. The companies here are aware of the value that Adlershof's reputation as a high-technology location has for their businesses. "We want to hear about the content before we commit." The pandemic has created a need for hybrid events that the team is more than happy to satisfy. In addition, they are hosting more and more conferences of their own. In March 2022, for example, Conventions will be responsible for hosting the South Berlin regional competition of "Jugend forscht", Germany's most important young science competition, not only in terms of managing the event but also designing its content. WISTA is one of the company sponsors of "Jugend forscht".
Working to receive the "Sustainable Meetings" certification is another of the Conventions team's newest projects. "We want to become greener," says Benjamin Springer, who has been an event manager at Conventions since October 2020. "To do so, we are scrutinising all our processes and the entire value creation chain—from our caterers to our furniture provider, and electricity company." Lastly, the team will only work together with other certified partners and will be able to proudly wear the certificate by 2022.
Something that has been keeping the Conventions team busy at all times are the tours of Adlershof. The site's top-level research, pioneering aviation history, its media production sites, and architecture attract 10,000 visitors every year. The newest addition is the Welcome Tour, which will be open for the public in November. "Adlershof is constantly changing," says Benjamin Springer, "and is becoming much more than a place where people work. Everybody knows their commute and their office but what else?" Because of this, the Welcome Tour includes all facets of the site and all spheres of life, including work, food, culture, and sports.
Rico Bigelmann für POTENZIAL
Potenzial – The WISTA Magazine. Edition: Business Support 2021
Führung durch den Technologiepark Berlin Adlershof