CAMPUS WISTA-TEAM – Service-Center der 1&1 Versatel – Offizieller Netzbetreiber der WISTA
Rudower Chausee 26 (Eingang über Newtonstraße), 12489 Berlin
+49 30 6392-4444
+49 30 6392-4437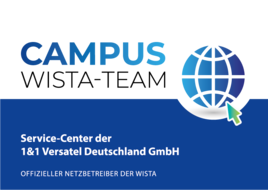 Contact

Contact

Contact

Focus
We offer you comprehensive security packages and IONOS cloud services for data and voice at attractive conditions.
In the future, your Internet access will automatically be provided with basic DDoS protection free of charge.
DDoS (Distributed Denial of Service) is a type of cyber attack that attempts to overload a website or network resource by flooding it with malicious traffic so that it can no longer be operated. We make sure you are always protected and can focus on your business.
IONOS products round off the new product portfolio - IONOS Cloud stands for true sovereignty, scalability and high availability. As a customer, you benefit from powerful cloud computing, storage, backup and Platform as a Services (PaaS).
Cloud telephony with Microsoft teams Integration on your existing infrastructure
Internet speeds up to 100Gbit
If you have any questions about your current Versatel connection, would like to order a new connection or changes to your utility services, please feel free to contact us.
Categories