eagleyard Photonics GmbH
Rudower Chaussee 29, 12489 Berlin
+49 30 6392-4520
+49 30 6392-4529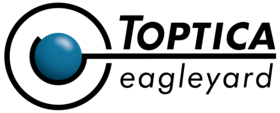 Management
Jörg Muchametow (CEO), Claus Heitmann (CTO), Dr. Wilhelm Kaenders
Focus
eagleyard Photonics GmbH is a technology company founded in 2002 and based in Berlin, Germany. eagleyard develops, manufactures and distributes high power semiconductor laser diodes based on GaAs wafer material – the key component for advanced laser systems. Offering wavelengths ranging from 630 nm to 1,120 nm eagleyard has become a leading provider of reliable laser diodes that serve the requirements for industrial, space, defense, medical and scientific applications.

The portfolio covers distributed feedback and distributed bragg reflector lasers, tapered lasers, tapered amplifiers, broad area lasers and ridge waveguide lasers. A professional network of Sales Partners encompasses eagleyard's sales activities around the globe. eagleyard's certified development, production and marketing processes are subject to rigorous quality standards required by ISO 9001.

Portfolio:
The portfolio is split in five product families: Single Mode Laser Diodes, Single Frequency Laser Diodes, Multimode Laser Diodes, Tapered Amplifiers and Gain Chips. Our products combine maximum power, high durability and excellent beam quality – a perfect match for high-end applications.


Research and Development:
We are part of several Research Projects, for example the Development Program for Terahertz Quantum Cascade Lasers.

Special Equipment:
Own Cleanroom
Categories