Ingenieurbüro Weidner-Sani & Partner
Schwarzschildstr. 8-12, 12489 Berlin
+49 30 6392-4170
+49 30 6392-4172

Contact
Dipl.Ing Hans-Jochen Weidner
Contact
Dipl.Ing. und Mediator im Bauwesen Hamid Sani Toorchi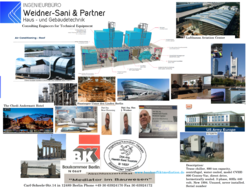 Focus
RLT Anlagen Kälte und Heizunstechnik Sanitär Brandchutztechnik und Mediation in Construction Business for extrajudicial settlement:
We offer mediation of conflicts in all phases of
Planning,
Construction
and operation.
Due to our professional careers we are all (unfortunately) familiar with the dynamics of conflicts between
Building owners,
Architects,
Professional planners,
Executing companies
and public authorities.
That's why we feel confident, that we as mediators can support you competently to solve the conflict as fast as possible in order to go back to a constructive cooperation.

TGA Professional Planers Planning office for technical building services:
CAE (Computer Aided Engineering),
CAD (Computer-Aided Design),
Heating, Air Conditioning, Sanitary and electrical equipment
Refrigeration Systems:
Consulting & Planning of Refrigeration Systems