17. September 2015
Additional breeding area for eagleyard
eagleyard Photonics GmbH increases size of production facilities in Adlershof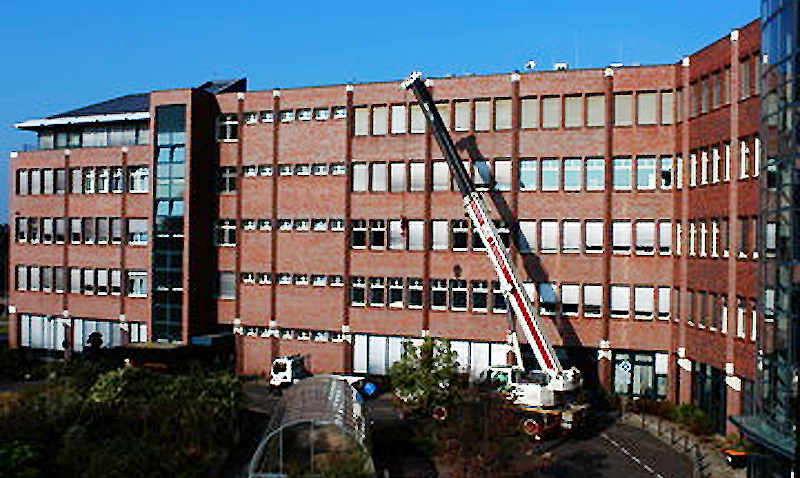 Headquarter of eagleyard Photonics at the International Business Incubator Berlin Adlershof. Credit: eagleyard
In response to the constantly growing demand for high power laser diodes, eagleyard Photonics GmbH has now doubled its laboratory and production capacity at its headquarters in Berlin/Germany. The new facility is now completed and has just started its activity. The expansion measures were implemented without affecting ongoing operations.
Jörg Muchametow, CEO and Managing Director of eagleyard Photonics GmbH: "eagleyard has been a success story since the start in 2002. Today, we are one of the leading manufacturers for high power laser diodes serving customers worldwide."
Located at the historic campus Berlin Adlershof – one of the leading Science and Technology Parks in Germany – eagleyard strengthens its reputation to support the needs of advanced technology industries. The newly constructed laboratory will be used especially for transferring new technologies into full production.
"By doubling the size of our production area we are well prepared to fulfill the needs of the huge demand for leading edge technology within the laser industry." Muchametow adds.
For more information about eagleyard and eagleyard laser diodes please go to www.eagleyard.com.
Contact:
eagleyard Photonics GmbH
Sandra Chudek
Marketing
Rudower Chaussee 29, 12489 Berlin
Tel. + 49 30 6392 4520
Fax + 49 30 6392 4529
sandra.chudek@eagleyard.com
Related News
Related Institutions