24. February 2021
Knowing what's inside
The Adlershof-based ASCA GmbH signed a cooperation agreement with the Federal Institute for Materials Research and Testing (BAM)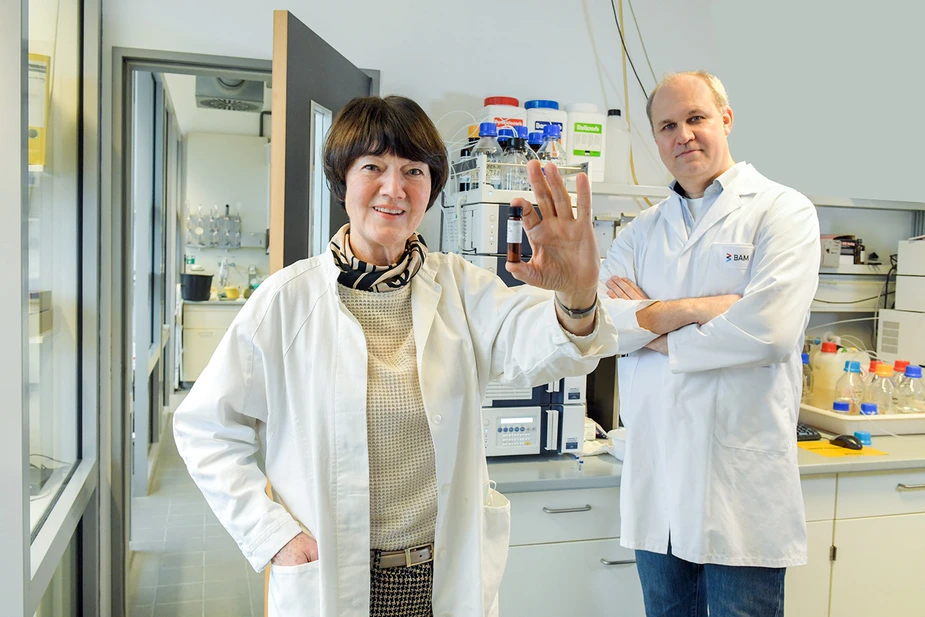 BAM department head Matthias Koch on a business visit to ASCA GmbH: Christine Wedler holds up one of the substances that her company produces for BAM © WISTA Management GmbH
Drug residues in drinking water, food contaminated with pesticides, UV blockers in the Baltic Sea: Residues of chemical substances are found everywhere. The Federal Institute for Materials Research and Testing (BAM) contributes to developing maximum legal levels and safety standards. BAM is looking back on its 150-year history this year. One of its core tasks is to provide certified reference materials, which help analysis laboratories and others to reliably test samples for residues of undesirable substances. The German higher federal authority has now been supported in producing such certified reference materials by the synthesis chemists from the Adlershof-based ASCA GmbH since January 1st.
"Since a sample typically contains many ingredients, the people testing it need not only to know what they're looking for but also need a sample of the substance for comparison – a certified reference material," explains Christine Wedler, CEO of ASCA GmbH. The chemist's company, which she founded with the late director of the Central Institute for Organic Chemistry in East Germany, Hans Schick, is specialised on producing such reference materials. "After reunification, our institutes were disbanded; we became unemployed. But we didn't feel like giving up and so we became self-employed with the ASCA."
Comprehensive expertise, high quality standards, and tremendous stamina led the company to the success – and made sure that the Federal Institute for Materials Research and Testing (BAM), which also has a branch in Adlershof, became aware of the ASCA's work. Frequently realising smaller research projects together, there was a lively exchange between the so-called departmental research facility and the private company for many years until they signed a comprehensive cooperation agreement starting on 1 January 2021. BAM commissioned ASCA to open up paths to synthesising a range of substances. The goal is to produce reference materials and special substances that are not yet available – such as fluorescent reporters and sensor molecules.
"There are many substances that could be improved for chemical analytics," says Matthias Koch, BAM department head, about the background. The ASCA has special expertise, particularly in environmental and food analytics, making it an ideal partner for the federal institute. Moreover, the spatial proximity and the positive experience the two partners have made over the past years had made it natural to expand their cooperation and make it permanent. "Not only subject-wise this is a match made in heaven – we've also been trustfully working together for a long time.
"Unlike producing, say, paperclips – items for which there are tried-and-tested standard procedures – we are moving in uncharted territory," adds Christine Wedler. "BAM as well as ASCA are both institutions that focus on research and development and so we both know that there are many uncertainties: Sometimes a team will work on a certain synthesis for a quarter of a year thinking it will work – and then nature just doesn't play a long in the end." Dealing with such situations in a constructive manner requires an inquiring mind, a certain flexibility, and a willingness to jointly find solutions. "Since our roots are also in the public sector, we think and work quite similarly to BAM. This makes us very compatible.
By Nora Lessing for Adlershof Journal
Related News
Twelve certified reference materials allow reliable and comparable characterization
Related Institutions