20. September 2011
New impetus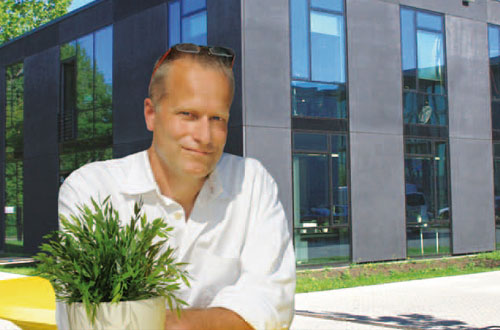 A supplier of roof sealing, roof landscaping and photovoltaics, Dachland GmbH set up headquarters in the midst of the science and technology park of Berlin Adlershof in January 2011.
The fact that the local infrastructure conditions are significantly more convenient than in many other places was pivotal for Dachland's managing director Michael Eyberg and his company which is operating all over Germany. The closeness to the airport, direct motorway and public transport access and favourable conditions for personnel selection were crucial factors in Dachland's decision to set up business in Adlershof. "During our first months here, we had more visits from planners, builders and investors than we ever had in the 17 years at our former headquarters," Eyberg explains, quite fond of the new location: "The spirit of research is almost tangible here, which is why we were really happy to come." In fact, the company has been present in Adlershof for some time, but only on the roofs: more than half of the photovoltaic arrays are owned, or were installed, by Dachland. Consequently, the company's move here in January gave new impetus to the long-standing cooperation. "Moreover, it is much easier now for potential partners to get in touch with us here on site. Which, in turn, generates more acceptance."
Through quality, Eyberg and his team have earned themselves this acceptance all over Germany. Over the past 42 years, Dachland has specialised entirely in the furnishing of flat-roof constructions and the building of complete roof superstructures. Apart from the core business of roof sealing, this specialisation also includes roof landscaping and photovoltaics.
Quality is one of Eyberg's pet subjects. For him, quality begins with questions such as: What does a builder want, or need, in the short, middle and long-term? What are the actual technical, structural-physical or economic requirements? "This is something you will not normally find in a call for tenders," says Eyberg, "but finding it out is our job and our ambition." Eyberg likes to call this "racking one's brains so builders don't have to rack theirs". The result of this process is a firstclass solution, both economically and technologically.
Link: www.dachland.de
Contact:
DACHLAND GmbH
Am Studio 6, 12489 Berlin
Telefon: +49 30 6392 7272
Telefax: +49 30 6392 7277
E-Mail: dachland@dachland-berlin.de