05. October 2015
New perspectives for the centre of Adlershof
Rudower Chaussee is Adlershof's lifeline. New projects are adding to the street's attraction.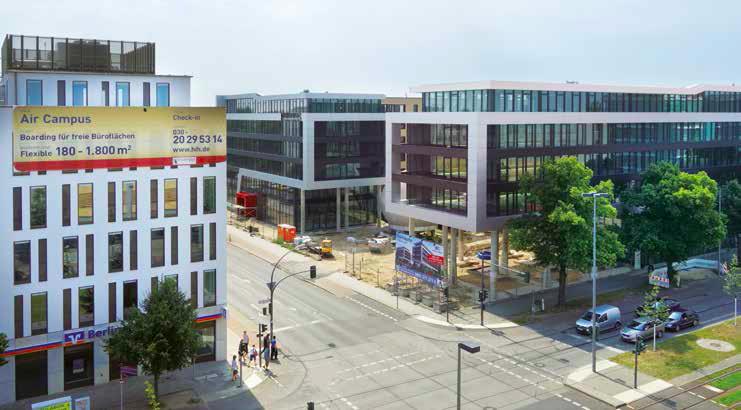 Since the scaffolding has been removed from the third construction section of Europa-Center AG's office complex on Rudower Chaussee this past summer, passersby have had the opportunity to enjoy a new sight: Finally, the iconic sphere-shaped laboratories, reminders of the location's technological past, are surrounded by modern office wings.
The new office complex is one of numerous new projects along Adlershof's main street. Step by step, the remaining gap sites are being filled and new occupancies are adding to the present utilities. Medienfenster Adlershof at the corner of Franz-Ehrlich-Straße is one of them. The project comprises 153 student apartments as well as several shop areas. Ute Hübener, Head of Marketing and Sales at Adlershof Projekt GmbH, appreciates the concept: "The busy ground floor zones will enhance Adlershof's urbanity in this area as well."
Soon Nubis, an office complex including a restaurant to be built by PROJECT Immobilien Gewerbe AG, will huddle against the oak grove right by the S-Bahn station. Furthermore, the eagerly awaited marketing for the 24,000 square metres property adjacent to the railway
line north of Rudower Chaussee will be launched in the autumn of 2015. "This really is our gem," says Ute Hübener. "The opportunity to create a 54 metres high 'gateway' will be a particularly attractive asset for investors." All in all, a floor space of nearly 60,000 square metres can be realised.
The open space to the west of the property will probably be advanced any time soon. The proprietor, Deutsche Telekom, has already kick-started developments there. Moreover, Europa-Center AG is planning a premium office building at Forum Adlershof, the technology park's central square.
On the other side of the S-Bahn station, the area around the intersection of Dörpfeldstraße/Adlergestell is also gaining in attraction. The construction of a 170-apartment complex as well as an organic supermarket is already underway. What is more, the State of Berlin is intending to upgrade Dörpfeldstraße with funds from the "Aktive Zentren" urban development subsidy programme. Adlershof Projekt GmbH's chief executive Walter Leibl is confident: "This may forge a valuable link between the old and the new Adlershof."
However, project developers are not only active along Rudower Chaussee's core areas. Later this year at the corner of Wegedornstraße the construction of a building for Landeslabor Berlin-Brandenburg is proceeding. On the plot alongside the motorway, the intersection of Hermann-Dorner-Allee will be attractively complemented by the Porsche Centre Berlin Adlershof. Furthermore, the single-family housing area "Wohnen am Landschaftspark" will soon be rounded off by an versatile project including a care home, a day care centre, an office and business building as well as 120 co-operative flats on Eisenhutweg.
by Emil Schweizer