26. February 2020
Targeting global public health scourges
Adlershof-based companies develop affordable vaccines, better diagnostics, and personalised therapies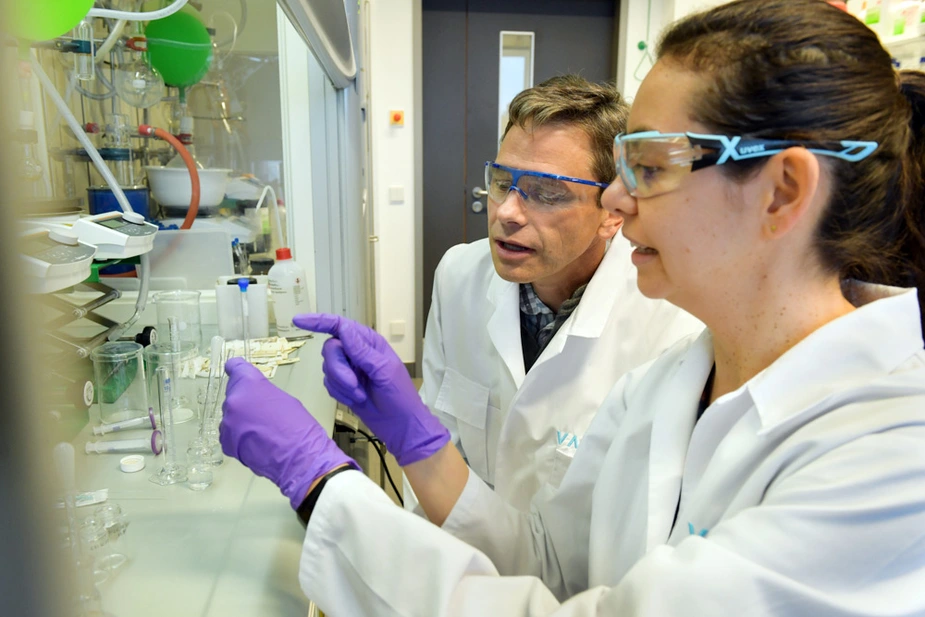 In the laboratory of Vaxxilon AG: chemist Marilda Lisboa, who describes the synthesis of a Klebsiella pneumoniae vaccine antigen, and Tom Monroe © WISTA Management GmbH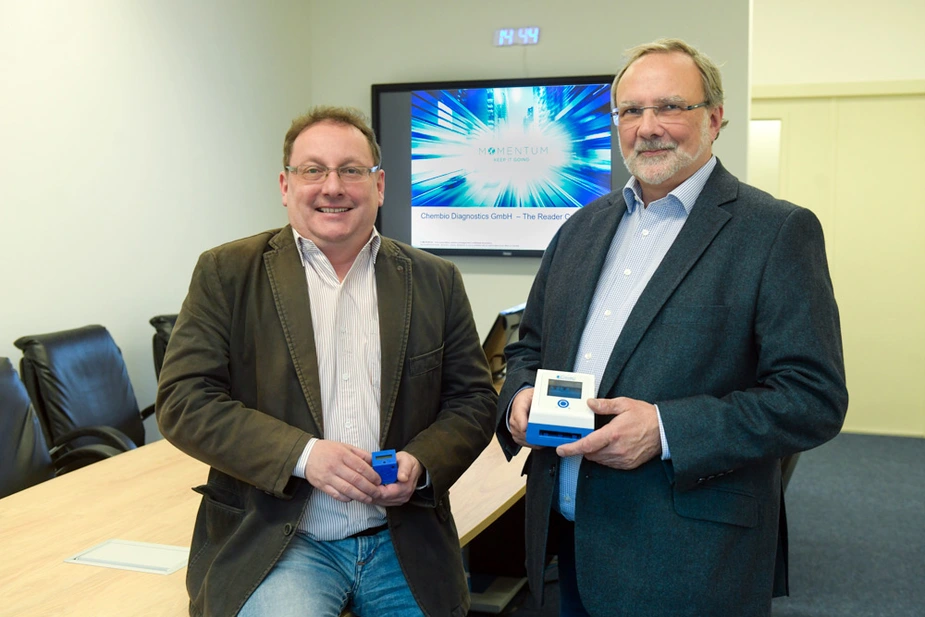 Lutz Melchior (left) and Volker Plinckert from Chembio Diagnostics develop mobile devices for reading quick tests © WISTA Management GmbH
Health care is a global task. Adlershof-based companies are developing and providing important contributions to the battle against HIV and Ebola, multidrug-resistant bacteria, and for more targeted cancer therapy.
Viruses and bacteria are global powers, which all too often demonstrate the limitations of mankind. More refined diagnostics, vaccines and more targeted therapies are required to reduce the toll of diseases such as cancer, AIDS, Ebola and to contain the effects of multidrug-resistant bacteria. Many promising approaches are coming from Adlershof.
Here, Vaxxilon AG is developing synthetic vaccines for two of the three most dangerous bacterial threats for clinical patients: Clostridium difficile (C. difficile) and Klebsiella pneumoniae (K. pneumoniae). According to the world health organization WHO, they could trigger uncontrollable waves of infections at any time.
This is because they developed resistances against most available antibiotics. Vaccines could help prevent this looming health crisis. Vaxxilon is working on vaccines based on synthetic carbohydrates, which the company's team combines with carrier proteins and molecule immune stimulators. Because these are strikingly similar to the sugars contained in the cell walls of C. difficile und K. pneumoniae, they stimulate the production of antibodies in the human immune system. 'We are currently in the pre-clinical phase and formal talks with the regulatory agencies about the first clinical trial, planned to start in 2021,' says CEO Tom Monroe.
Just a short walk away from Vaxxilon's labs, Chembio Diagnostics GmbH develops globally mobile devices for reading quick tests. Their test systems can detect HIV, Ebola and Zika viruses in just ten to 15 minutes. 'As an OEM business, we supply 150 customers in 45 countries with our devices,' says director Lutz Melchior.
One of the company's specialities, which was called opTricon until the take-over by Chembio Diagnostics Inc. in autumn 2018, is a mobile reading device. Due to an edge length of only 4 centimetres and a weight of 40 grams, the smart cube fits into any pocket. A single button makes it uniquely intuitive. When pushed, the device provides the user with an unambiguous and objective result in just three seconds. To facilitate documentation, this can be transmitted to mobile end devices via Bluetooth.
Especially in remote areas, this connected, fast, and reliable mobile diagnostics device is key for containing deadly diseases.
'For a tech company, it absolutely key to think and act globally right from the start,' says Melchior. However, it can be challenging to attract the attention of international customers when dealing with limited financial and human resources. 'We rely on networks like DiagnostikNet Berlin-Brandenburg, which have a reach that goes way beyond the borders of Germany,' he explains.
Alacris Theranostics GmbH is also well-connected. Its leadership consist of researchers and experts from Germany, the United Kingdom, and the US. Their networks go as far as Asia and, thanks to an array of EU research projects, also to many European countries. Many clinics seek the support of the Berlin-based firm for personalised therapy of cancer patients - precision oncology based on data provided by Alacris. Personalisation, in this case, means pinpointed attacks on individual tumours.
'Every cancer and every patient are different. The possible combinations of gene variants in the cancer genome are more numerous than the amount of water molecules in space,' says Bodo Lange, the CEO. His team wants to get to the bottom of these variances. They do so by sequencing tissue and blood samples, analysing mutations and changes on the DNA and RNA level, and deriving treatment options from them. These efforts are based on computer models that simulate the complexity of a tumour cell and the effects of various cancer medication on each individual tumour.
Based on fully sequenced DNA and RNA, the company can test a range of therapy options in simulations to identify effective medication and optimise personalised cancer therapy. Alacris relies on reducing costs through automation and standardisation in order to provide their approach, which is rooted in systems biology, to as many global cancer patients as possible. They have a clear conviction: good health care is a global goal.
By Peter Trechow for Adlershof Journal
Related News
Related Institutions