10. February 2021
PicoQuant releases new MultiHarp 160 – a scalable multichannel event timer and TCSPC unit
Designed for applications requiring up to 64 synchronized inputs without compromises in time resolution and data throughput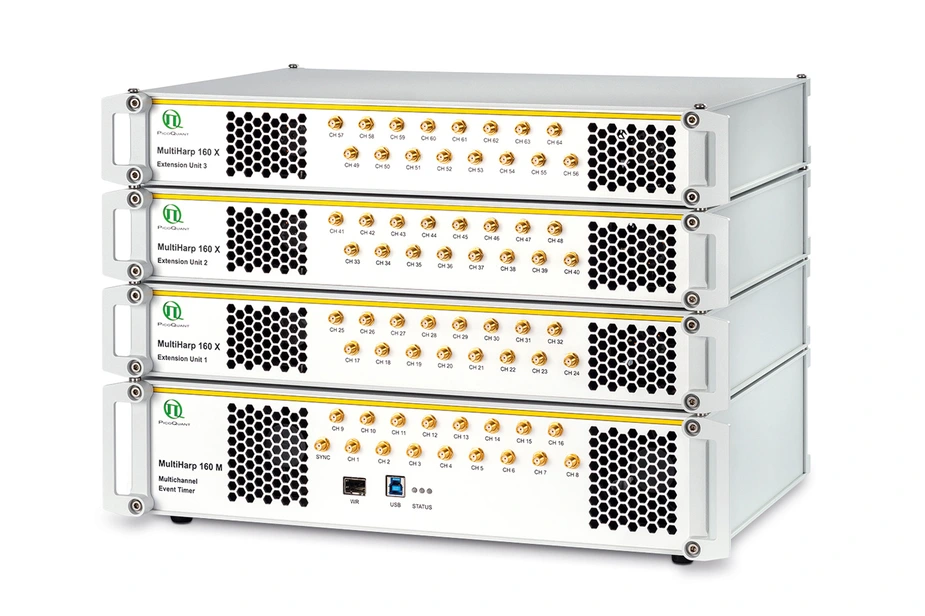 The MultiHarp 160 is a time tagger featuring a large number of synchronized inputs without compromises in time resolution and data throughput. © PicoQuant
During this years virtual SPIE Photonics West exhibition (March 6-11, 2021), PicoQuant will unveil its latest multichannel event timer: The MultiHarp 160, a plug-and-play time tagger and Time-Correlated Single Photon Counting (TCSPC) unit that is optimized for applications requiring up to 64 timing channels with an outstanding time resolution of 5 ps and ultra short dead time of less than 650 ps.
An opportunity to get an early closer look at the MultiHarp 160 is available on March 1, 2021: Dr. Torsten Langer, sales and application specialist at PicoQuant, will host a free webinar highlighting the unit's capabilities.
Rainer Erdmann, managing director of PicoQuant, says: "We developed the MultiHarp 160 to meet the challenges of future TCSPC applications using many channels: our device provides internal synchronization of all inputs without need for additional hardware or software tools and extraordinary throughput can be achieved thanks to a special FPGA link."
The MultiHarp 160's number of synchronized input channels can be scaled from 16 up to 64. A common synchronization channel, supporting sync rates of up to 1.2 GHz for periodic signals, is available as timing reference for all channels. Time tags from all input channels are combined into a single data stream that is accessible via an USB 3.0 interface. The data stream is also accessible to external FPGA boards via a dedicated interface, enabling great flexibility in tailoring the way how data is preprocessed to the specific needs of an application.
Furthermore, the MultiHarp 160 supports synchronization of multiple devices via White Rabbit timing networks, GPS, PPS, or external references. The MultiHarp 160's high quality and reliability is reflected by PicoQuant's unique 5-year limited warranty.
Contact
PicoQuant
Rudower Chaussee 29, 12489 Berlin
Phone: +49 30 1208820-0
Email: info(at)picoquant.com
www.picoquant.com
Press contact
Nicole Saritas
Phone: +49 30 1208820-0
Email: mkt(at)picoquant.com
Press release PicoQuant, 28 January 2021