20. July 2021
25 years of PicoQuant, specialist for photonic components and instrumentation
A look back on becoming market leader in time-resolved optical measurements while not forgetting social responsibility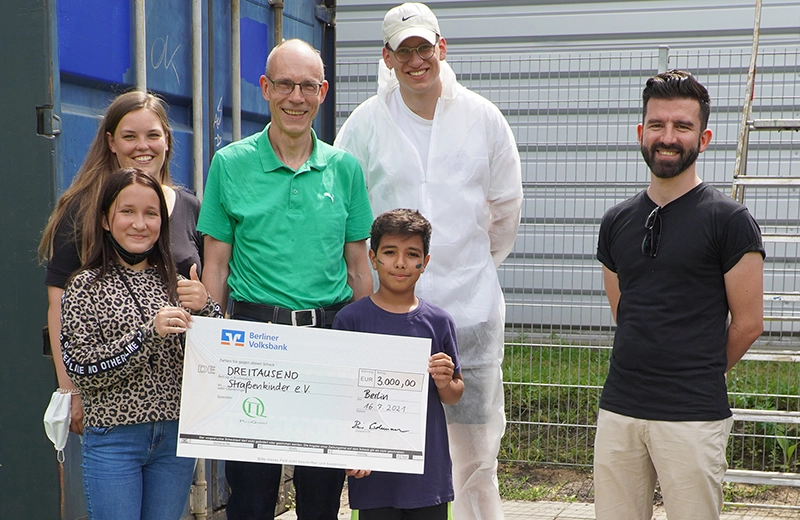 Managing director Rainer Erdmann (2nd from the left) and Senior Scientist Support Olaf Schulz (right) who suggested the charity handing over the donation check to Straßenkinder e. V. © PicoQuant
This year marks the 25th anniversary of Berlin-based PicoQuant, a worldwide leader in the development and manufacturing of high quality photonic components and instrumentation.
Rainer Erdmann, Managing Director and one of the company founders: "It has been an exciting and successful journey for us at PicoQuant. When we started in 1996, I could not imagine that we would – one day – be a company with globally over 125 employees. I am also very proud, that we are successfully making complex scientific applications accessible to researchers all over the world."
PicoQuant was founded in 1996 by four young scientists and engineers who set themselves the goal to develop optical instrumentation designed by scientists for scientists. The company focused from the beginning on offering innovative and high quality products for international customers working as researchers in various scientific fields. By staying true to this standard, the company became world leader in the field of time-resolved optical measurements. The company's product portfolio covers a broad range of products, instrumentation and applications. Looking back and forward, Rainer Erdmann says: "I am really proud that we contributed with our solutions to more than 7000 scientific publications and that our Single Molecule Workshop, which will be held for the 26th time in September this year, has attracted more than 2000 international scientists including Nobel prize winners over the years. In the future, we expect to continue fulfilling our mission statement: providing outstanding solutions for researchers in academia and industry all over the world."
Scientific work and social responsibility
Encouraging and fostering the scientific development of young researchers has also been a key philosophy of PicoQuant in the last 25 years. The company awards several yearly prizes for young researchers. It also organizes annual training courses on time-resolved spectroscopy and microscopy, and the leading international workshop on single molecule detection. Furthermore, assuming social responsibility and commitment are a guiding principle at PicoQuant. The company financially supports multiple social, educational, and environmental projects every year.
Donations
To celebrate the company's 25th anniversary, PicoQuant decided to carry out several activities during this year instead of throwing a single, big party. For one of these activities, PicoQuant has chosen to support three additional local projects that were suggested by its employees. One of the selected charities is Straßenkinder e. V., which fosters socially disadvantaged children through education and social participation. The company also supports an environmental project by MoorFutures and the science education focused charity JugendTechnikSchule. Besides the financial support for the three selected projects, the company will also hold an internal celebratory event for its employees as well as a reception during next year's LASER World of Photonics exhibition to mark the end of the anniversary.

Contact
PicoQuant
Rudower Chaussee 29, 12489 Berlin
Phone: +49 30 1208820-0
Email: info(at)picoquant.com
www.picoquant.com
Press contact
Nicole Saritas
Email: mkt(at)picoquant.com
Press release PicoQuant, 20 July 2021
Related News
Chinese customers benefit from a website in Chinese and a strong local presence
Related Institutions