01. March 2016
Pfeiffer Vacuum has set standards in leak detection for 50 years
Global range of leak detector solutions since 1966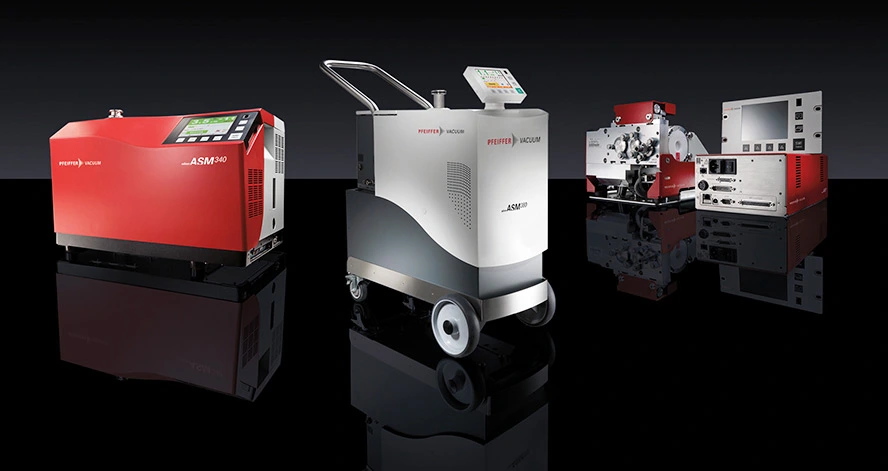 Pfeiffer Vacuum offers an extensive portfolio of leak detectors using helium or hydrogen as a tracer gas for a broad spectrum of use
From miniature electronic units to large tanks, from escaping fluids and gases to gas ingress in vacuum systems – the requirements that leak detectors are expected to meet are every bit as varied as the spectrum of industrial products. The extensive range of leak detectors in the Pfeiffer Vacuum portfolio offers solutions for all these requirements.
Experience counts!
In 2016, Pfeiffer Vacuum is celebrating 50 years of its leak detectors. Founded in 1890, the company is a leading global manufacturer of components and systems for generating, measuring and analyzing vacuum and detecting leaks. It was in 1966 that the first helium leak detector ASM 4 designed and engineered in-house was patented and launched. The launch of this product was an important milestone for the industry. The first leak detector with an integrated turbopump, the ASM 110, followed in 1985. This technology represented an important advance in the design of the devices that were available on the market at that time. The first portable leak detector, dubbed the ASM 310, was then launched in 2009.
Extensive choice of leak detectors with helium or hydrogen tracer gas
Today, Pfeiffer Vacuum can rightly maintain with pride that its leak detectors find every leak. No leak is too small or too large to go undetected. Dr. Matthias Wiemer, member of the Management Board of Pfeiffer Vacuum Technology AG, declares: "Pfeiffer Vacuum is the only company that offers such an extensive portfolio of leak detectors using helium or hydrogen as a tracer gas for a broad spectrum of use. Pfeiffer Vacuum develops and produces leak detectors and helium recovery systems for applications requiring a guaranteed high production throughput as well as leak-tight parts. Our qualified expert staff supports customers in selecting the best solution to meet their requirements."
Pfeiffer Vacuum introduces leak detection compendium
The "Leak Detection Compendium" from Pfeiffer Vacuum provides extensive expertise on leak detection and leak testing. Leak detectors and systems, as well as various leak detection measures, are described for readers looking for a hands-on approach. The contents of the compendium are easy to understand and written with users in mind. Diagrams and photos illustrate the subjects discussed. Numerous tips from expert users on the subject of leak detection and leak testing provide readers with support with their particular application. Clearly arranged tables facilitate the conversion of units of measure and other everyday leak detector tasks. The handbook itself also stands out with its clear structure and layout. Dr. Matthias Wiemer explains: "We are proud to introduce the leak detection compendium as a unique practical aid to support our customers with their work. It brings together concentrated expertise in a handy pocket-sized book – from describing the various tracer gases and explaining various leak detection methods right up to showing helpful examples from practical use." Thanks to close collaboration with customers and the continuous focus on their needs, Pfeiffer Vacuum is constantly optimizing and expanding the portfolio. During the past months the following innovations have been introduced to the market:
ASM 340 – Leak detection even at 100 hPa
The ASM 340 is a powerful and sturdy leak detector for reliable quality assurance. The wide spectrum of use extends from industrial and analytic applications to research and development and the coatings market. This compact leak detector is for use both in serial production as well as for maintenance tasks. It is available with conventional or dry pumps as well as in a version without a backing pump. The ASM 340 can be used for qualitative localization of leaks as well as for quantitive integral or local testing. It stands out with its powerful vacuum system which guarantees extremely quick operational readiness. It also excels with a fast response time due to the high helium pumping speed. These features are responsible for short cycle times and a high part throughput. The ASM 340 is the only leak detector of its class on the market that is able to localize leaks even at 100 hPa.
ASI 35 modular leak detector
The ASI 35 from Pfeiffer Vacuum is the ideal solution for integration into industrial leak detector systems. This leak detector combines high performance, reliability and repeatability with maximum rung time. With helium or hydrogen as a tracer gas, it provides excellent performance during integral and localizing testing methods as well as in a combination of the two. Its great flexibility makes this leak detector ideal for demanding testing tasks with extremely low background signals and guarantees short overall throughput times. The device can be used for leak detection in various operating modes in vacuum testing or sniffing tests at the maximum sensitivity. The ASI 35 allows an extremely high throughput and guarantees precise and repeatable results plus extremely short cycle times of only 1 second during leak detection. With its high performance in sniffing operation, the ASI 35 is particularly well suited for sniffing leak detection at several points. The electronic module was designed for universal voltage, which makes the ASI 35 easy to integrate into systems intended for global use. The leak detector is also suitable for conditions with ambient temperatures of up to 45°C. Easy mechanical integration is enhanced by a wide spectrum of interfaces allowing data logging and full external operation of the system.
AMI 120 leak testing system for pharmaceutical blister packs
The AMI 120 from Pfeiffer Vacuum is a unique in-process system for non-destructive leak testing of pharmaceutical blister packs. This innovative solution allows highly sensitive quantitative leak testing to be carried out in real time and without the use of a special tracer gas. The penetration of moisture, oxygen or microbiological materials can considerably impair the quality of drugs. Even minuscule leaks in the packaging, with holes of < 1 µm in diameter, can impair the stability of the drug. With the AMI 120, qualified by leading pharmaceutical companies, the leak rate can be measured within a cycle time of less than 45 seconds even from 1/10 µm. The test system has its own calibration facility using traceable test leaks. This ensures that the AMI 120 always works reliably. It uses a patented process for in-house process control during leak testing of blister packs. The AMI 120 is easy to set and is more sensitive and faster than conventional testing methods. The system is compliant with standard CFR21, Part 11, and is extremely affordable since it does not need to work with a special tracer gas. The integrity test is suitable for all types of blister packs.
Press Contact:
Pfeiffer Vacuum GmbH
Sabine Neubrand
Public Relations
Tel.: +49 6441 802-1223
Fax: +49 6441 802-1500
Sabine.Neubrand(at)pfeiffer-vacuum.de
www.pfeiffer-vacuum.com