18. February 2022
Dr. Amran Al-Ashouri receives 2021 Adlershof Dissertation Award
The physicist researched how highly efficient tandem solar cells can be developed using new organic contact materials.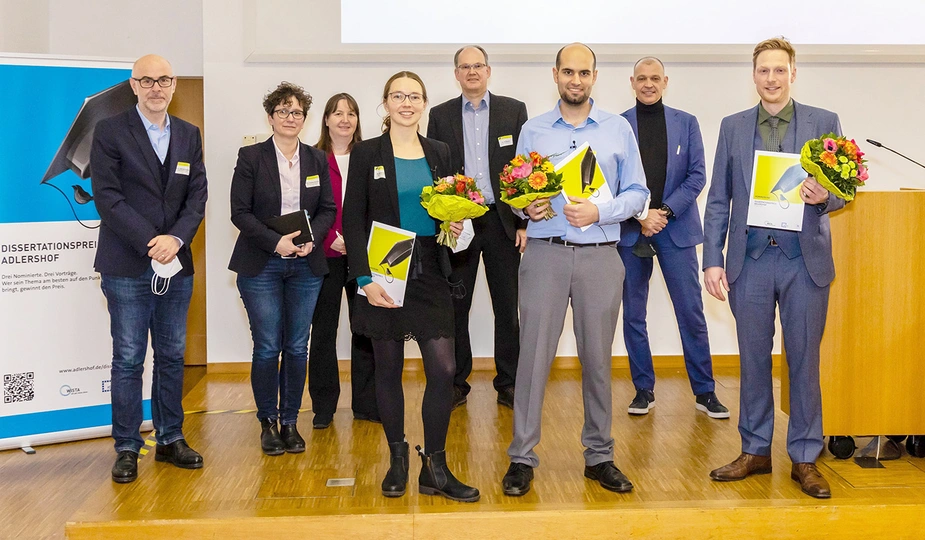 f.l.t.r.: Emil List-Kratochvil (HU), Franziska Emmerling (BAM), Caren Tischendorf (HU), Maria Troppenz, Peer Ambree (WISTA), Amran Al-Ashouri, Roland Sillmann (WISTA), Jan Ruschel © IGAFA/Matthias Brandt
On 17 February 2022, the Adlershof Dissertation Award was given out for the 20th time. This year's award went to Dr. Amran Al-Ashouri (third from left) and included a prize money of 3,000 euros. It is jointly endowed and organised every year by the IGAFA e.V. research network, Humboldt-Universität zu Berlin, and WISTA Management GmbH.
Dr. Amran Al-Ashouri's dissertation looked into a new generation of solar cells that consist of wafer-thin perovskite layers as well as conventional materials such as silicon. They are said to increase the efficiency and expand the application areas of solar cells.
More specifically, the physicist developed new organic contact materials and investigated the fine-tuning of electrical interfaces to achieve minimal losses. The tandem solar cells developed in this way reach record efficiencies and can accelerate the transition to clean energy, or Energiewende, by saving significant resources and costs.
Dr Amran Al-Ashouri wrote his dissertation at the Helmholtz Centre for Materials and Energy and Technical University Berlin and now works as a postdoctoral researcher at Helmholtz-Zentrum Berlin.
In addition to Dr. Amran Al-Ashouri, two more outstanding researchers made it into the final selection out of a total of nine applicants: The dissertation of Dr. Maria Troppenz (Humboldt- Universität zu Berlin) looked at "Electronic transport properties of thermoelectric materials with a focus on clathrate compounds" while that of Dr. Jan Ruschel (Ferdinand-Braun-Institut gGmbH und Technical University Berlin) investigated the "Causes of current-driven degradation of UV LEDs". Both received a prize money of 1,000 euros for their nomination.
Both the jury and the prize givers praised the way in which the research of all nominees sought to contribute to solutions to the so-called Grand Challenges.
The award ceremony of this year's Dissertation Award took place in a hybrid format due to the coronavirus pandemic. It had to be hosted in an online format the previous year. The event was broadcast live from the Erwin Schrödinger Centre in Adlershof.
Despite these changed conditions, all the nominees held their 15-minute presentations with aplomb and displayed their scientific achievements in a vivid and easily understandable way. Their outstanding and intriguing presentations captured the imagination of the jury as well the over 130 interested people that joined via livestream.

Contact
Sanela Schlößer
IGAFA e. V.
Tel.: +49 30 6392-3669
igafa(at)igafa.de
Petra Franz
Humboldt-Universität zu Berlin
Tel.: +49 30 2093-20035
petra.franz(at)uv.hu-berlin.de
Cindy Böhme
WISTA Management GmbH
Tel.: +49 30 6392 2191
cindy.boehme(at)wista.de