06. May 2022
Highly sensitive measurements for the smallest particles
An innovative single particle counter is contributing to improve quality of medicines and vaccines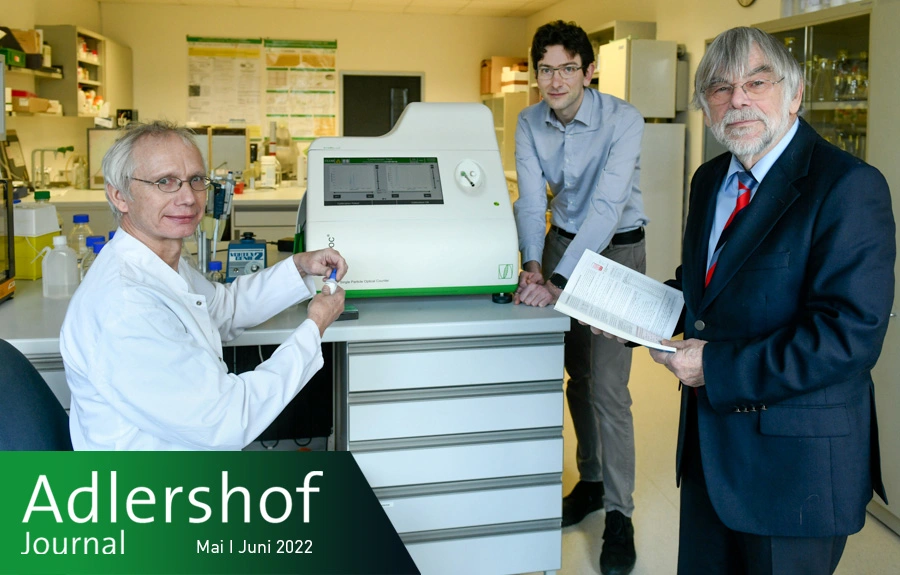 Successful cooperation: the single particle counter by Martin Hussels (middle), Holger Woehelcke (left), and Dietmar Lerche © WISTA Management GmbH
Reliably identifying solid particles in liquids is complicated when the smallest particles are on the nanometre scale (billionth of a metre) and the largest particles are on the micrometre scale, which is about a thousand times larger. The intensity of the generated light signals can then differ by a factor of 107, i.e., 10 million times more. Size and concentration of individual particles must be known exactly to safeguard the quality of medicines and vaccines and their safe application. Moreover, the measurement must be very fast in order to be able to detect the small particles individually.
Martin Hussels, a physicist from the Department of Biomedical Optics at the Berlin-Charlottenburg location of Physikalisch-Technischen Bundesanstalt (PTB), was able to achieve this task together with his colleagues at PTB and in cooperation with LUM GmbH. The Adlershof-based company had already done some work on this and was seeking to cooperate with the experts of PTB, a federal institute. This resulted in a three-year project, funded by the ministry of economics as part of its technology transfer programme.
The starting point was flow cytometry. "We took this method for measuring cells and developed it further," says Hussels. The technique is based on the fact that cells emit optical signals when they pass through a laser beam. Depending on their form, structure, and colour, different effects can be observed which allow to draw conclusions on the particle's volume, the structure of its surface, and the size of its nucleus. However, it was not possible to determine the concentration of particles, especially those smaller than one micrometre.
"This is very intriguing and a lot of fun," says Professor Dietmar Lerche. The CEO of LUM GmbH spoke to us about the technical and scientific challenges that his Adlershof-based company is faced with. They are successful, for one, because of the numerous measurement devices they produce, the "LUMi" series. LUMiFuge, for example, is used for stability analysis, while LUMiFrac is used for adhesion testing, for example, testing the strength of an adhesive. For this, they received the Innovation Award Berlin Brandenburg in 2012.
In 2021, the LUM experts were again nominated for the Innovation Award for making an important contribution to a very timely subject, especially during the pandemic. In cooperation with PTB, they developed "LUMiSpoc", a single particle counter. Using this highly sensitive measurement device, it is possible to characterise the size, structure, and concentration of microscopic solid particles in liquids. This includes so-called adjuvants, most often metal oxides, which are often no larger than 100 to 500 nanometres (billionth of a metre) and added to medicine and vaccines to boost their effect. Sometimes they are the reason an effect takes place.
"I put a lot of my know-how into developing this single particle counter," says Hussels. Electronics and amplifiers were improved upon, the optics refined. When measuring with LUMiSpoc, the sample at hand is injected into a measuring flask, from which the single particles move through a flow-through cuvette and are detected by the laser beam. The name "Spoc" stands for Single Partical Optical Counter, hinting at the underlying technology. The device is a photometer that measures the light intensity scattered by each nano or microparticle into different directions. This way, up to 10,000 particles can be analysed in just one second.
"That's what's new about it," explains Hussel, "that you can quickly determine the size distribution and concentration of particles in the 40 nanometres to 10 micrometre range with high precision and in a single measurement." They are now working on further improving data gathering and analysis as part of another project.
The 38-year-old physicist, who studied at Free University Berlin and wrote his PhD in physical chemistry at the University of Tübingen, uses particle research to develop and test models, which is sometimes difficult in biological systems: "I can synthesise particles and change them to meet my needs." However, the results gleaned from this can then be applied to cells and other biological substances. The medical industry, especially those working on vaccinations, will be very interested in this new technology.
But the usefulness of the services provided by the single particle counter is not limited to the pharmaceutical industry. "It also meets a need in electronics," says Lerche, CEO of LUM. Producing wafers is one such example. Wafers are discs made of silicon that are used to manufacture microchips. To do so, their surfaces must be smooth in the finest possible way. "Polishing agents must not contain particles that are too large because they would scratch the surface," says the biophysicist.
Lerche's company employ about 50 people worldwide and now has subsidiaries in the US, Japan, China, and France. He also founded a spin-off company in Adlershof in 2003, Dr. Lerche KG, which offers research as a service in analytics and biotechnology. Both companies are also active in standardisation for DIN and ISO. The measurement technique that they developed is also important for EU regulation on nanomaterials. "The size of the particles that are smaller than 100 nanometres are crucial for assessing the risk level of a material," says Lerche.
Dr. Paul Janositz for Adlershof Journal
Related News
Novel measuring system determines the concentration of nanoparticles – successful technology transfer from PTB to industry