05. October 2015
New building at Forum Adlershof - Timeless, open, distinctly curved
Interview with Ralf-Jörg Kadenbach, member of Europa-Center AG´s managing board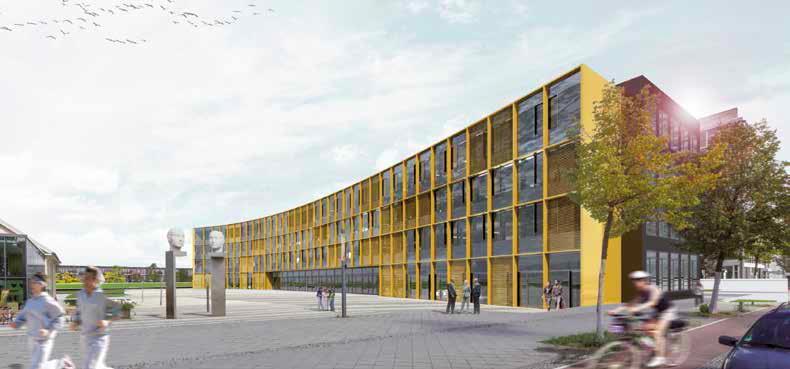 Mr. Kadenbach, Europa-Center AG has been one of the most active private investors in Adlershof for years. Their buildings such as Europa-Center Adlershof situated on Rudower Chaussee feature prominently in the technology park's urban image. Another office complex is being planned right at Adlershof's centre. What may we expect?
The building to be erected at the Forum will be Europa-Center AG's fourth office complex at the location. It is going to be a special construction, rather different from the classic buildings in our portfolio, if only because of its exclusive location right at the Forum square. The new building will be considerably smaller in size, with creative features enhancing the square's overall architectural impression.
Does the exclusive location entail particular architectural requirements?
The Forum is in fact the heart of Adlershof. Since 2007, the site on Rudower Chaussee situated between Erwin Schrödinger-Zentrum and Humboldt University's Psychology Department has been redesigned to become the science city's attractive centrepiece. It is the centre of attraction as well as a meeting point not far from the new residential areas being developed in Adlershof: a busy town square and a place for communicative exchange. The new building's architecture must take this into account.
So what will it look like?
It will be an open and timeless structure, a building featuring a distinctly curved golden facade and high windows, achieving the perfect balance between prestigious location and unobtrusive setting.
The building was drafted by Zoomarchitekten, an architect's office well acquainted with the location. How did this collaboration come about?
It is in fact the result of a special selection procedure we conducted together with the Berlin Senate, the Treptow-Köpenick district office, Adlershof Projekt GmbH and WISTA, inviting several architect's offices to submit their drafts. The proposal by Zoomarchitekten was deemed urban and architectural best by an advisory board, not least in terms of aspects such as energy and space efficiency and sustainability.
You mentioned considerable differences compared to EC's classic office buildings. Aside from architectural features, what are these differences?
The building has four storeys only. With a gross floor area of a little under 6,000 square metres it is considerably smaller. However, the size of the rental spaces is extremely variable, starting from 64 square metres and aiming at different target groups such as medical practices, law offices or consultancy firms. Accommodating up to 13 business units, the ground floor space is ideally suited for gastronomy and service providers as it faces the Forum square.
You also mentioned the Europa-Center Adlershof building on Rudower Chaussee. What's the state of affairs there?
The third and final construction stage has been completed. The interior courtyard is getting its shape, the tenants' finishing work is beginning and demand for the spaces has been gratifyingly high. Our rental office is conducting numerous viewings and negociations with potential tenants. A health insurance branch, an office equipment provider and a technology company have already signed contracts.
Link: www.europa-center.de
Related News