05. May 2022
Sensitive work
The healthcare marketing experts of PEIX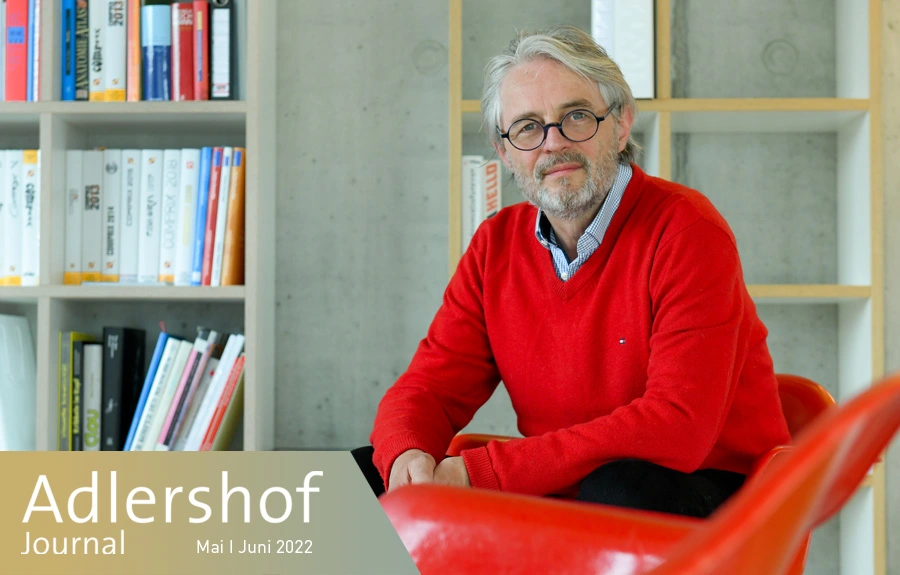 PEIX CEO Karsten Rzepka just celebrated the one-year anniversary of moving his creative agency to Adlershof © WISTA Management GmbH
It is only since 2012 that it is legal to show medical work wear like scrubs in advertising and it is illegal to advertise prescription drugs and their "promise of efficacy". "Marketing in every sector has its challenges – but the challenges of healthcare marketing are particularly complex. Advertising yoghurt is significantly easier," says Patrick Held, creative director at PEIX Health Group. It was founded in 1994 by Karsten Rzepka. For a year now, the Berlin-based communications agency has been developing its multiple award-winning campaigns on Willi-Schwabe-Straße in Adlershof's Media City.
From the terrace of the agency's brand new Adlershof headquarters, Rzepka has a direct view of the company that started everything 30 years ago: Berlin-Chemie AG. Rzepka calls the company's founding a "managed coincidence". Designing a sticker for said pharmaceutical company, which was then on the path from a socialist company into the free market economy, sparked the realisation that Berlin didn't have any agencies that were specialised on health communication back then. There was only one thing to do: doing it yourself.
Communication of health topics is "sensitive work", says Held. It is in continuous state of tension between the ideals of a solidarity-based healthcare system and a necessity to act in economic self-interest. "Profits have to be made," says Rzepka, "there's no point in denying it." And while there are some commissions he would personally not take on, he also rejects blanket criticism of the pharmaceutical industry and health care companies. "They do many fascinating, positive things that yield huge benefits for those affected."
Held is also aware that healthcare communication will have to do more than focusing on product benefits. The multiple award-winning chief creative director spent much of his professional life abroad, in the US and China, for example, worked in different sectors, including the world of finance and automobiles, the World Health Organisation, and was a lecturer at the University of Namibia. He intends to bring his experience in consumer communications to his new role. "Thinking differently" is his motto. Communication cannot work along the lines of products alone. "Intelligent prevention, digital health apps, patient education programmes – people's expectations for communication and the healthcare industry have changed," says Held. "There are so many possibilities."
A small sticker and original plans to limit the number of staff to ten has since evolved to include 80 creatives, concept staff, strategists, designers, programmers, and copywriters, who have been tweaking campaigns at the new agency building for a whole year now. The four-story building – based on a plan of kba Architekten und Ingenieure GmbH – is open, light, and spacious. The open offices with naked concrete and glass windows create an airy and transparent atmosphere.
"We were sceptical about Adlershof at first," says Rzepka. Over time, however, the fancy Kreuzberg loft was getting a bit tight. They first reacted by renting additional smaller offices and "renovating tiny basements that were close-by," the agency boss remembers. At the same time, rents were soaring. "Bringing the team together in one place was simply no longer possible." But communication needs exchange. This was a realisation even before the pandemic over the last two years with its videoconferencing and working-from-home requirements. "Meeting people," says Rzepka, "is essential for working creatively. It's the only way to create magic moments."
"We are really happy in Adlershof," he adds. It's a "different kind of work." Now that construction and the move are completed, the last boxes emptied, he wants to "venture out into the neighbourhood" with his team, tap into the potential of the new location. In addition to the studios for photo and video production on the top stories, the building has another story that is still empty. Here, Rzepka wants to work with students and young creatives in future. They, in turn, can use the agency's infrastructure. "We have everything we need to do this in Adlershof."
Rico Bigelmann for Adlershof Journal
Related News
Related Institutions