14. March 2023
Collaborative geographic information systems
The FOSSGIS conference in Adlershof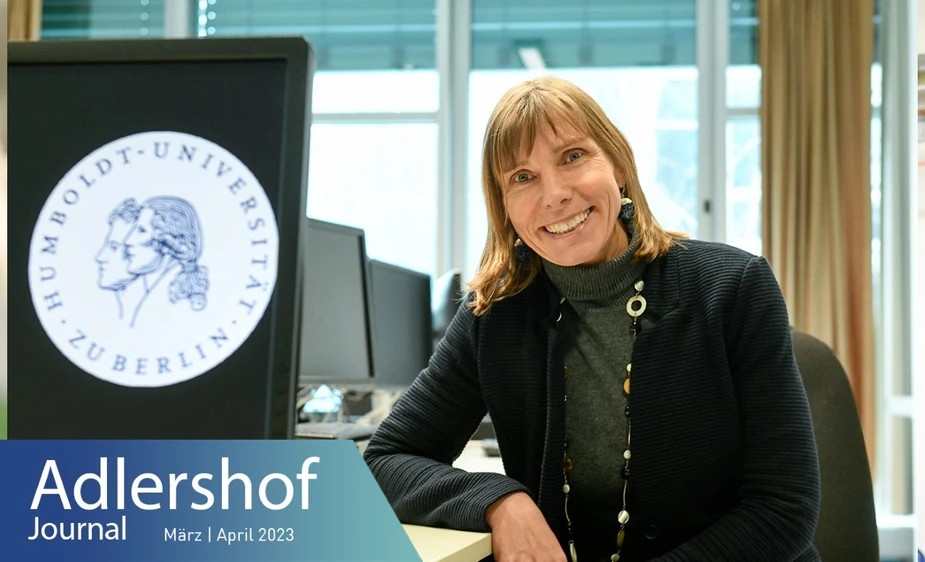 In the footsteps of Alexander von Humboldt: Tobia Lakes' research also helps protect the climate © WISTA Management GmbH
FOSSGIS, the leading conference on free and open-source software for geoinformation systems in the German-speaking countries, will take place at Erwin Schrödinger Centre between 15–18 March 2023. Organisers include the eponymous non-profit association as well as the OpenStreetMap community and the Geography Department of Humboldt-Universität zu Berlin (HU). We spoke to Tobia Lakes about it, who is a full professor of applied geoinformation science at HU.

Ms Lakes, what's FOSSGIS about?
Whether consciously or subconsciously, we all use geodata and the functions of geographic information systems in our everyday lives. You're using them when you have GoogleMaps show you a map of your city, for example. The aim of this annual conference is the dissemination of free and open-source software for geoinformation systems as well as open data. Developers and users come together to share their latest findings. Featured topics include web mapping, geodata infrastructures, geodata management, geoprocessing, geodata analysis and modelling, desktop GIS, and open geodata like OpenStreetMap. Digital sovereignty in relation to open source also plays a major role.
What's the difference between free and open-source software?
Free software means it's free of charge. Everybody can use it but not participate in its development. Open-source software, on the other hand, refers to the source code being open. Users can design and develop own modules – in exactly the way they need them. This creates a high level of transparency. The project "Bikebility - how bike-friendly is our city?" is an example of this. On the one hand, users can use and click their way through the software package, exploring bike paths, parking facilities, bike rentals, train stations, etc. On the other hand, they also have access to a package enabling them to add and integrate their own stations, tips, and the like. The users are involved in developing the software.
What does your work as a professor of applied geoinformation science involve?
I investigate and teach methods of applied geoinformation science. We have numerous BA and MA courses at the Geography Department and they all get to learn something about geodata. They learn where the data come from, how they can be processed as well as analysed. It all starts with coordinate systems and simple distance measures. Then, there is visualisation and map design in theory and practice. In the 2nd semester of the BA course, for example, students conduct their residential environment analysis using geoinformation systems.
What are you currently researching?
Two issues are at the top of the agenda at the moment. The first is a project on COVID of the German Research Foundation (DFG) in which methods and strategies on vulnerabilities and risks are developed in cooperation with the local public health authority in Berlin Neukölln. We are currently investigating which maps, methods and data are needed to quickly depict current statistics. It's about web-based visualisation, cartographic representation, and quick sharing and integration of data.
We are working on the second issue as part of the DFG research group FORLand. This is about the effects of climate change on land use in Berlin and Brandenburg and the options we as humans have to adapt. We are currently focusing on the drainage area of the Spree and the development of agriculture in the areas of Brandenburg surrounding Berlin. There is a clash of many interests of different users: agricultural production, biodiversity, climate protection. We are now using data analysis and spatial optimisation algorithms to reveal conflicting goals and possible scenarios. In doing so, we integrate geospatial data, including soil, water, climate, flora, and fauna, with human geographical data such as infrastructure, demographics, and economic structures. This integrated perspective plays a major role in geoinformation science.
Back to the conference – how will your department be represented there?
We will be there with a small local committee from our institute. A big thanks at this point to Benjamin Jakimow and Katja Haferkorn! Coming from applied geoinformation science, our focus at the conference will be on geoprocessing, geodata analysis and modelling. FOSSGIS is a very practice-oriented conference and is very interesting not only for researchers but also for students because it offers many opportunities for getting in contact with potential employers.
Kathrin Reisinger for Adlershof Journal
Related News
Related Institutions