08. November 2021
All under one roof
Starting shot for innovative materials research at the new IRIS research building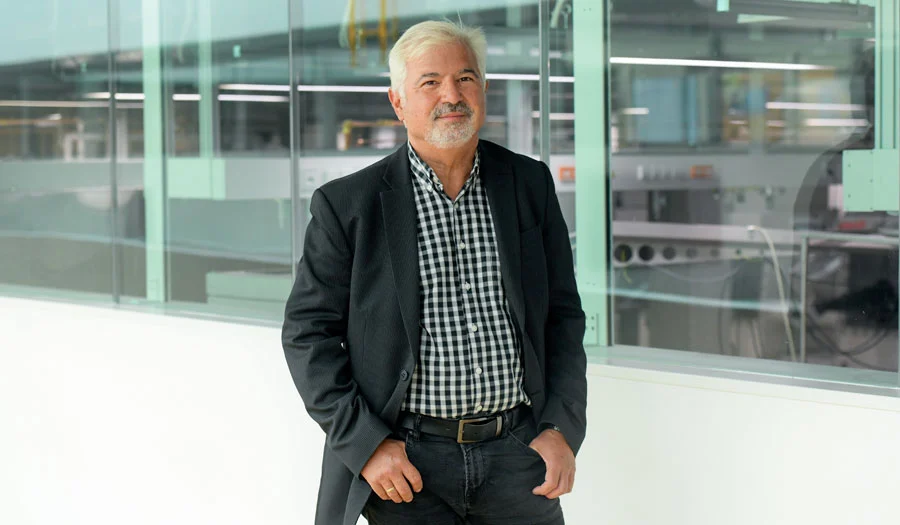 Happy about perfect working conditions at the new IRIS building: managing director Nikolai Puhlmann © WISTA Management GmbH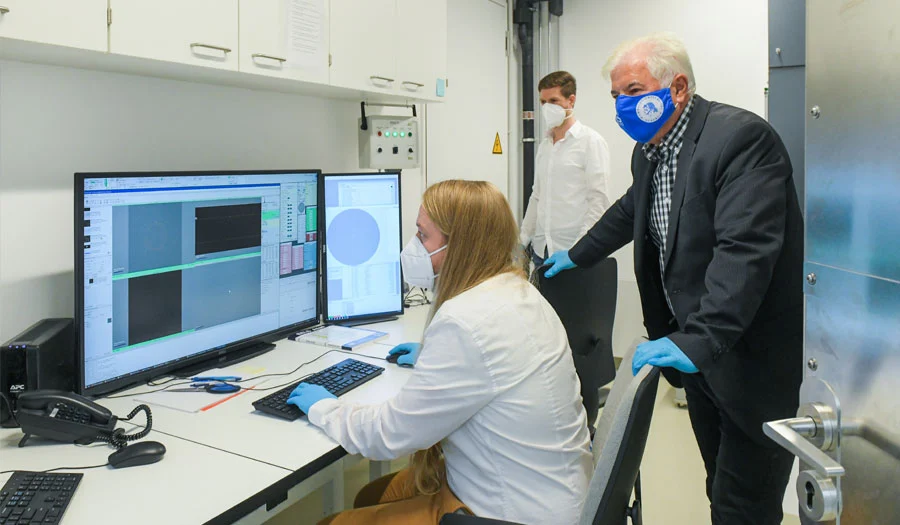 In the electron microscope's control room: PhD student Sam Fairman, Benedikt Haas, and Nikolai Puhlmann (left to right) © WISTA Management GmbH
Ideal conditions for top-level research. The new research building of the Integrative Research Institute for the Sciences IRIS Adlershof has been ready for the move-in since April 2021. Bit by bit, research groups from the fields of physics and chemistry at Humboldt-Universität zu Berlin and cooperation partners from non-university research institutes are moving in. Their common aim: developing and researching novel hybrid materials.
It has been thirteen years since Adlershof-based researchers from various disciplines put their head together to work out a concept for the future of research. Their idea: Creating an interdisciplinary natural science research institute as part of Humboldt-Universität zu Berlin (HU). "The backdrop to this idea was that we were encountering more and more topics where physicists, chemists, mathematicians, or computer scientists weren't moving forward on their own," says Nikolai Puhlmann. "The aim was to create an institutional frame for such research projects."
Since its inception in 2009, Puhlmann has been managing the business of the Integrative Research Institute for the Sciences (IRIS Adlershof), which started out as a type of subtenant of the HU's Department of Physics: it had a letterhead and a website but not its own building." In 2021, the State of Berlin and HU dug deep into their pockets, refurbished the building on Zum großen Windkanal 6 in the immediate vicinity to the Department of Physics, and gave it to IRIS. "We now got great offices and wonderful rooms for seminars and meetings," says Nikolai Puhlmann. "Only the experimenters were left out in the cold back then: They were in dire need of new laboratories, modern equipment and state-of-the-art technology for their experiments."
Their wish, too, became a reality: The federal government and the State of Berlin were convinced of the idea to set up a cutting-edge laboratory building between the two houses at the Great Wind Canal and put a total of 53 million euros towards the project. First ground was broken in 2016 and then, finally, the time had come early this year: "The laboratory wing has been completed and is now uniting two previously separate worlds—physics and chemistry," says Nikolai Puhlmann gladly.
The interdisciplinary research taking place here will yield novel hybrid materials for a variety of applications—including information technology. "Hybrid means that inorganic semiconductor materials will be brought together with organic materials on a nanoscopic scale," says the physicist. The background is that both materials have properties that create advantages and disadvantages. At their new space, the researchers hope to combine the materials in such a way to bundle their advantages and, ideally, compensate for their disadvantages. Using novel physical effects, the aim is to increase the functionality of applications in sensor technology, information technology, and energy.
At the heart of their new building, the IRIS team has built a large cooperative laboratory with an integrated clean room area. This lab will bring together work methods from physics and chemistry and give a home to the manufacturing of organic and two-dimensional semiconductors and the printing of nanocircuitry for prototypical components. Moreover, the new building will be equipped with highly specialised laboratories, which will be used by analysts to scrutinise the materials developed here. A particular highlight: In an electromagnetically isolated room with a decoupled foundation, there is one of the most cutting-edge transmission electron microscopes in the world.
"There are currently only a handful of comparable instruments in the world that can achieve this kind of spatial and spectral resolution," says a delighted Benedikt Haas, who is responsible for operating the device. "The elaborate preparation of the room for the purpose of decoupling the microscope from environmental influences means that we can push the instrument to its performance limits. This means we cannot only create images of individual atoms but also study them spectroscopically."
Generally speaking, the new research building does not only build bridges between the various disciplines but also between theory and experimenting as well as between basic research, application-focused research, and high-tech companies. It also strengthens the ties between university and non-university research facilities since colleagues from facilities like the HZB and the Fritz Haber Institute of the Max Planck Society will too have their own rooms to conduct catalysis research in collaboration with HU. Nikolai Puhlmann sums up: "With the completion of this building, a dream has become true for us."
Nora Lessing for Adlershof Journal